Bore assessments and
Make Good Agreements
Bore assessments are required to determine if a water bore is eligible for make good measures.
Bore assessments & make good agreements
Bore assessments are undertaken to assess the capacity of a water bore and to establish whether or not the bore has, or is likely to have, an impaired capacity due to resource activity.
Resource companies undertake bore assessments to determine if make good measures are required as part of a make good agreement with the bore owner.
When undertaking a bore assessment, the resource company will need to collect information on the water bore such as:
details of the bore construction (drill date and drilling company, etc)
photographs, details, condition and rate of the bore pump
repair history
purpose and use of the bore
bore capacity
water level and pressure
water quality
Bore assessment checklist
Use this checklist to determine if a private bore may be eligible for make good measures and if a bore assessment is required. This checklist will also outline the process for undertaking a bore assessment, as well as the actions each party should be responsible for during this process.
Download Checklist (PDF 206 KB)
Make good agreements
The results of a bore assessment determine which make good measures are required.
The make good agreement decision table (PDF 250 KB) can be used to determine the sort of make good agreement that may be suitable.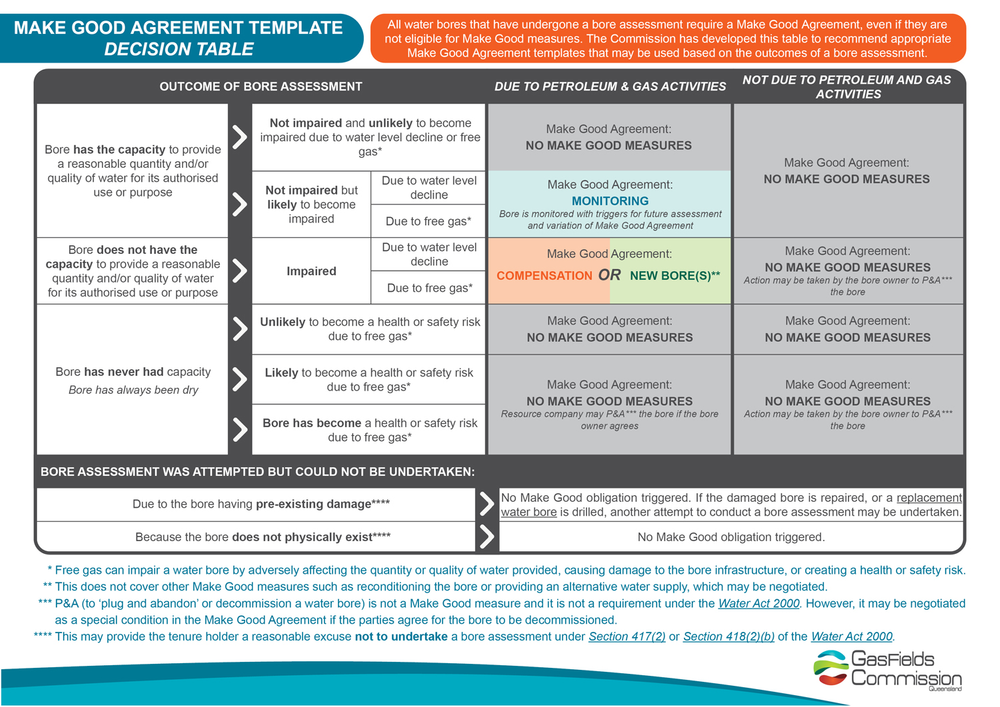 Important resource
Need to contact someone?
Department of Natural Resources, Mines and Energy
Department of Environment and Science