Bores impaired by gas development
If a bore owner is concerned their water bore may have been impaired by gas development they should contact the Department of Natural Resources, Mines and Energy (DNRME) .
If a bore impairment was not predicted in an approved underground water impact report (UWIR), DNRME may forward their investigation findings to the Department of Environment and Science (DES).
Under section 418 of the Water Act 2000, if DES reasonably believes a water bore can no longer supply a reasonable quantity or quality of water for its authorised use or purpose, the department can require the resource company to carry out a bore assessment and enter into a make good agreement.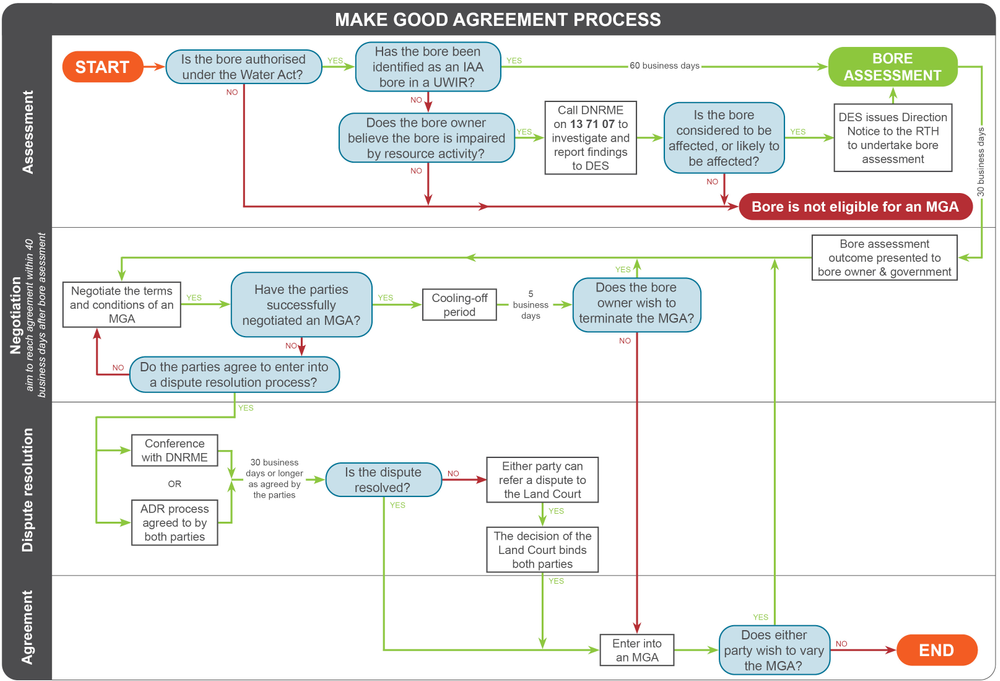 IAA:

Immediately Affected Area.

MGA:

Make Good Agreement.

ADR:

Alternative Dispute Resolution

.

RTH:

Responsible Tenure Holder.
Important considerations
Not all bores are automatically eligible for make good.
Make good measures are usually determined on the basis of impaired capacity and individual circumstances.
A bore that has not been actively used for many years, or is damaged and/or unworkable is unlikely to be considered impaired.
A bore should be in working condition to be considered for make good (be fitted with a working pump and producing water).
In the case where a bore is delivering water but not operating at its paper entitlement, a make good agreement can be measured against its actual capacity.
A bore assessment will determine the actual capacity of a bore and a make good agreement will generally be negotiated on that basis.
A make good agreement should be negotiated for all bores that have undergone a bore assessment.
Make good measures will only be considered in areas of petroleum or gas activity and where the resource company's activities cause or are likely to cause impairment of a bore.
Monitoring may be the preferred make good measure where a bore is not predicted to become impaired for a number of years.
Bores assessments and make good agreements
Bore assessments are undertaken to assess the capacity of a water bore and to establish whether or not the bore has, or is likely to have, an impaired capacity due to resource activity.
Resource companies undertake bore assessments to determine if make good measures are required as part of a make good agreement with the bore owner.
When undertaking a bore assessment, the resource company will need to collect information on the water bore such as:
details of the bore construction (drill date and drilling company, etc)
photographs, details, condition and rate of the bore pump
repair history
purpose and use of the bore
bore capacity
water level and pressure
water quality
Bore assessment checklist
Use this checklist to determine if a private bore may be eligible for make good measures and if a bore assessment is required. This checklist will also outline the process for undertaking a bore assessment, as well as the actions each party should be responsible for during this process.
Download Checklist (PDF 206 KB)


Important resources:

Need to contact someone?
Department of Natural Resources, Mines and Energy
Department of Environment and Science